Department of cooperative development
COMMISSIONER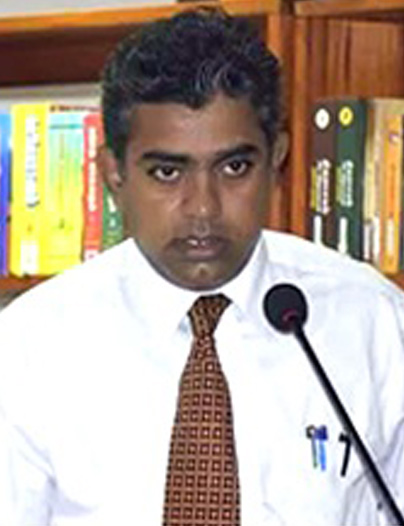 Mr. P.Vageshan
Commissioner
Tel: 021 205 7063
Mobile: 0773868567
Fax: 021 205 7062
Email: ccdnp@gmail.com
Vision:
Co-operative movement promoted and empowered for socio, economic and cultural growth in Five Districts of the Northern Province.
Mission:
Facilitate and promote Co-operative values by sharing socio, economic resources among the people to promote Co-operative services and contribute to the human development based economy.
Function
Organization and Registration of Co-operative Societies.
Supervision of Co-operative societies and providing necessary advises and guidance to the societies in the provision of services essential for community life.
Auditing of co-operative societies.
Performance of statutory functions such as the settlement of disputes, the holding of inquiries, conducting investigations, inspections of co-operative societies and liquidations of cancelled societies.
Training and development of co-operative development officers, co-operative employees and cooperators via exhibition, training classes, short term courses and publicity meetings and efficiency bar examinations.
Work in close co-ordination with ministries and agencies engaged in development work and act as liaison between co-operative societies and such ministries / agencies.
Postal Address: Department of Cooperative Development, Elders Home Complex, Kandy Road, Kaithady
General Telephone: 021 205 7064
Fax No. : 021 205 7062
E-mail: ccdnp@mail.com, ccdnpc@gmail.com
Designation

Name

Telephone Number

Address

CCD & RCS
Mr.P.Vageshan
Direct: 021 205 7063
Mobile: 0773868567
Dept. of Co-operative Development, NP
Elder's Home Complex, Kandy Road, Kaithady.
Accountant
Mrs.S.Meera
Direct: 021 223 2212


Mobile:

076 620 3407
Dept. of Co-operative Development, NP
Elder's Home Complex, Kandy Road, Kaithady.
ACCD (Head Quad.)
Ms.F.H.A.Sameeyu
Direct: 021 205 7064
Mobile: 077 540 7178
Dept. of Co-operative Development, NP
Elder's Home Complex, Kandy Road, Kaithady.
Administrative Officer
Mrs.S.Niranjala
Direct: 021 205 7062
Mobile: 077 700 3592
Dept. of Co-operative Development, NP
Elder's Home Complex, Kandy Road, Kaithady.
Asst. Commissioner, Jaffna (Actg)
Ms.F.H.A.Sameeyu
Direct: 021 222 2186
Fax: 021 222 2186
Mobile: 077 540 7178
ACCD's Office, No.857, K.K.S. Road, Jaffna
Asst. Commissioner, Kilinochchi (Actg)
Mr.S.M.Subair
Direct: 021 228 3959
Fax: 021 228 3242
Mobile: 077 5925072
ACCD's Office, Depot Junction, Kandy Road, Kilinochchi
Asst. Commissioner, Mullaitivu
Mr.A.Singanayagam
Direct: 021 229 0011
Fax: 021 229 0011
Mobile: 077 304 8417
ACCD's Office, PWD Junction, Mullaitivu
Asst. Commissioner, Vavuniya
Mrs.S.Indra
Direct: 024 222 2874
Fax: 024 222 2874
Mobile:077 640 8886
ACCD's Office, Station View Road, Circular Road, Vavuniya
Asst. Commissioner, Mannar (Actg)
Mrs.C.S.Amirthanathan
Direct:023 222 2156
Fax: 023 222 2156
Mobile: 779382318
ACCD's Office, Semmanthevu, Murungan
Director PCTI – Vavuniya
Mr.G.Chandrasegaran
Direct:024 222 3585
Fax: 024 222 3585
Mobile: 071 6504399
Provincial Co-operative Training Institute,
No-09,7 th Lane, Vairavar Kovil Road Vairavappuliyankulam, Vavuniya